The final portion of this three-part blog will be discussing past Warranties that have been voided byTechnicians who weren't a Certified Amalgam Separator Specialist. If you have not read "Warning to All Members of the M.A.R.S Family" (Part 1) and "Slanderous Comments" (Part 2), please start there.
A Warning About Technicians Who Are Not Certified Amalgam Separator Specialists
Our Family of Distributors goes through annual training. Constantly updating their knowledge on all amalgam separators and evacuation line cleaners, to ensure your office is being serviced properly.
There have been enough LibertyBOSS Warranty's voided by non-certified Technicians, we feel the need to start warning our M.A.R.S. Family members. If your Technician isn't a Certified Amalgam Separator Specialist, please be sure they are handling your LibertyBOSS correctly. The following are a few offenses committed by Non-Certified Technicians:
1) Install the LibertyBOSS backward
2) Open the Amalgam Separator, exposing the office to Methylmercury
3) Install the amalgam separator after the pump
4) Install solids collector in front of the amalgam separator
How to Install a LibertyBOSS like a Certified Amalgam Separator Specialist
The M.A.R.S LibertyBOSS is a very simple system to install. There is an inlet at the top and an outlet at the bottom. In many cases, Dentists have installed their own LibertyBOSS with the greatest of ease. There are detailed installation instructions that come with the LibertyBOSS, extensive installation videos on our website and there is a helpline if further assistance is required.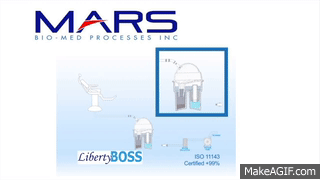 Thank you for taking the time to read all three parts of this blog. We hope this saves your practice from having to deal with your LibertyBOSS Warranty being voided, being pulled out before the end of the service life or replaced with an expensive, low quality, high maintenance system.
Certified Amalgam Separator Special Jason Buyukozer with a LibertyBOSS and Warranty Registration Card
Please visit the M.A.R.S distributor page at www.marsbiomed.com to find a trusted M.A.R.S Certified Amalgam Separator Specialist close to your practice. You can also contact M.A.R.S at 1-866-594-3648 or info@nullmarsbiomed.com. If you are not a part of the M.A.R.S Family and wish to have a free consult on your amalgam separator, please visit our Consults Blog.