Slanderous Comments
If have been following our blog thus far, you would have read "Warning to All Members of the M.A.R.S  Dental Practice Families" about comments made about the LibertyBOSS. A blog about the unfortunate campaigns trying to discredit M.A.R.S Bio-Med, our products and our Family of Distributors. The following are a few slanderous comments that have been brought to our attention by loyal M.A.R.S. Family Members:
1) M.A.R.S. is out of business, you cannot purchase the LibertyBOSS anymore
Some service company employees may not realize we may have removed their company's right to distributor our products. This is because they may not have met our standards, do not align with our values or refused our specialized training. What they have to understand is, just because you cannot sell our product anymore, doesn't mean we are out of business. M.A.R.S Bio-Med is seen as experts in our field. We are continuing to share our vast knowledge of amalgam separation and evacuation line cleaners with Governments, Water Treatment Plants, Dental Schools, Militaries and the Dental Industry. We have a loyal following of Dental Professionals, who know and trust the reputation of M.A.R.S Bio-Med and the quality we represent.
2) The LibertyBOSS is not a legal amalgam separator
The LibertyBOSS is not only ISO 11143:2008 test at over 99% efficiency, our system has been Independently Studied, to far surpass the standards of ISO. It has been proven that we have the only system with the ability to capture TOTAL Mercury (Solid and Soluble). The soluble mercury being the biggest issue for Water Treatment Plants. M.A.R.S is so confident in the quality of our products that we are the only amalgam separator manufacturer to provide a WRITTEN Guarantee of Compliance. Our Guarantee states "If the LibertyBOSS technology should fail to meet or exceed the respective regulations due to M.A.R.S' technology shortcomings, M.A.R.S Bio-Med ("M.A.R.S") will make the appropriate adjustments to the LibertyBOSS". This means if you have a LibertyBOSS, M.A.R.S. will make sure you remain compliant.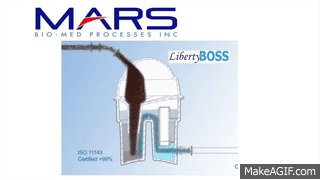 3) The LibertyBOSS will not work with your new suction pump
As mentioned in a previous blog, every amalgam separator will work with every suction pump. If your Sales Representative or Technician advises you that your amalgam separator will not work with your pump, either they are trying to sell you something they can provide, or they are greatly misinformed. Be sure to ask your service provider if their staff are Certified Amalgam Separator Specialists. If they are not, you could be putting your practice in the wrong hands.
4) The LibertyBOSS is a terrible system, it fails and causes suction loss
The LibertyBOSS comes with a WRITTEN Guarantee. M.A.R.S Guarantees that your LibertyBOSS will perform as advertised for the full duration of your given service life:
1-3 Chairs = up to 3 years
4-9 Chairs = up to 2 years
10-16 Chairs = up to 1 year
If there is a manufacturer defect before the end of the listed services life, M.A.R.S will replace your LibertyBOSS for the remaining duration of your service life. In 12 years of business, M.A.R.S has only ever had 1 failure. Our system is designed to be a minimum 1 ½" through the system, which makes it virtually impossible to clog. If your technician says the suction loss is due to your LibertyBOSS, call M.A.R.S. before doing anything else. We will talk you through the troubleshooting that your Service Technician has probably forgotten to test first.
Thank you for following our three part blog, the last segment will be released next week. We will be discussing voided warranties caused by Non-Certified Amalgam Separator Specialists.